Chebogue Community

Founding

Indian settlers inhabited the area now known as Chebogue very early on; the Indian name "Utkubok", meaning "a spring of water", is assumed to have led to the English name. Acadian settlers arrived in Chebogue in the early 1700s, and, after their expulsion in 1755, the area was settled by three families from Sandwich, Mass in 1761.

Industry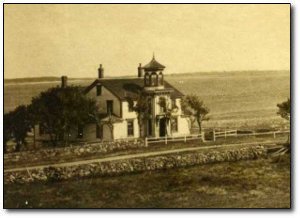 Fishing, shipping, mills, farming, lumbering, trucking, factories (lobster, moss harvesting)

Facts
The first English child born in Chebogue was Anna Perry, daughter of Mr. and Mrs. Moses Perry.
Town Point Cemetery in Chebogue is the burial place for many of Chebogue's first settlers, including Moses Perry and Ebenezer Ellis and their wives. It also contains the hand-carved "Marble Lady" monument for Margaret MacNaught Webster.
The brigantine Baltimore was discovered in 1735 in Chebogue Harbour. Everyone on board was dead except for a woman named Susanah Buckler. Specific details of what occurred on board the Baltimore remain a mystery.
History

The Landers, Ellis and Perry families came to Chebogue in 1761 and were soon followed by several others, including the Crosby, Burgess, Eldredge families. Although several of the families returned to Massachusetts after the first harsh winter, the community began to grow steadily as the remaining settlers built homes and began working.

The late 1700s saw the construction of a number of roads out of Chebogue: to Milton Corner, down Yarmouth's Main Street, to Rockville. The first meeting-house was raised in July 1766, and the Chebogue Baptist church was opened in 1841. A Presbyterian church was opened in 1863. The opening year of the Chebogue schoolhouse remains unknown, but Samuel Poole taught there sometime after 1766, and the school remained operating for many years thereafter.

Various small industries developed over the years and the settlers did well for themselves with mills, farming, fishing and shipping. Several of Yarmouth County's Master Mariners came from Chebogue, including Captain N.K. Clements, founder of the Clements Line of steamships.

Common surnames found in Chebogue include Robbins, Ellis, Hilton, Perry, Scott, Ring, Cook, Tinkham, Crosby, and Landers.