Kemptville Community

Founding

1820

Industry

Lumbering, farming, saw mills, blueberry farming, mining

Facts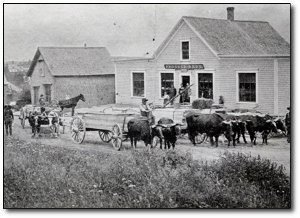 In 1850 mail was brought to Kemptville for the first time by stage coach from Yarmouth. The first mail drivers were William Prosser and James Hamilton.
The Kemptville Women's Instiute was formed in 1915. In 1916 the Institute members knit over one thousand and thirty pairs of socks to forward to Halifax for the war effort.
William Prosser was one of the few early settlers who did not have a Loyalist history. When William was a young baker's apprentice in London he and a friend were shanghaied and pressed into service with the Royal Navy. After crossing the Atlantic, the two young men escaped the vessel near Chebogue. William made his way up the Tusket River, befriended a young widow in Kemptville and eventually married her.
History

Kemptville began as a winter gathering place for the Mi'kmaq who travelled to the interior by the Tusket River. The whole settlement of Kemptville embraces about 60 square miles on both sides of the Tusket River. The "Corner" near the bridge is the picturesque centre. A forest fire swept through the area in 1820. Sir James Kempt, Lieutenant-Governor of the province, was instrumental in sending aid and in 1821 the settlement was named in his honour. The first English settler was Abner Andrews, the son of Major Samuel Andews, a Loyalist from North Carolina who settled in Raynardton at the end of the Revolutionary War.

Most early settlers were also Loyalists who had come first to Shelburne, then Tusket, and finally Kemptville. Pioneer names include Andrews, Hurlburt, Tinkham, Gardner, Roberts, VanAmburg, Goodwin, Gray, McGray, Crowell, Mood, Harding, Hamilton, Raynard, Wood, Prosser, White, Gullison, Ring, Rankin, Spinney.

The years 1820 to 1850 were notable for the incoming of new settlers. Sections were called Central Kemptville, Rockingham, Goodwin's Section, James Prosser's Section, and Rankin's Section. Soon after 1864 there were five school sections and three churches. The first public building was a small school house, also used as a meeting house for religious worship. The grounds above the school were used for burial for the first 25 to 30 years.

In the early 1900s Kemptville became a favourite resort for sportsmen, many coming from the United States to fish and hunt. Local men found employment as guides and lodges and hotels were built to provide accommodation. Birchdale was one hunting lodge with a rich history. Another was the Imperial Hotel. Among the famed guests of the Imperial was American President Theodore Roosevelt.